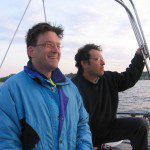 I was fortunate to retain Captain Paul Foer of Foerfront LLC to assist me in taking my newly purchased Catalina 30 from Middle River near Baltimore to Deltaville, Virginia in April, 2008.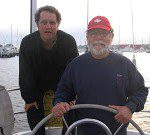 I have sailed with Paul Foer twice. Each time has been a distinct pleasure. Our first sail was from Chesapeake Bay to Long Island Sound when I brought home the Tartan 37 I had purchased. 
In May, 2007 I hired Paul Foer to serve as Captain on my Alberg 35 classic I had just purchased.  I highly recommend Paul for deliveries or instruction. He was a pleasure to sail with. My son and I hope to sail with Paul again.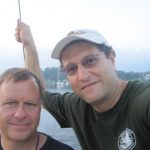 …We were hit with a squall that we later learned was in excess of 50 mph, but we had prepared for it as Captain Paul had insisted. Paul is professional and highly capable. I learned a great deal from him and would highly recommend him as a delivery captain or sailing instructor.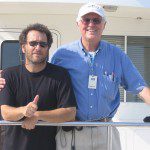 He worked long hours, and was always willing to do what was needed to safely complete our trip on time! Paul is highly professional, trustworthy and reliable in all respects. Best of all I gained a new "lifetime friend"! I can truly recommend him to any boat owner within his license class."  
Paul and I arranged the details of the delivery. He arrived at the boat on time, confirmed the readiness of the vessel, picked up a few items needed for the trip including provisions and then proceeded to travel north to Virginia.  He arrived on time, provided a list of a few items of interest or in need of repair, proceeded to clean vessel in preparation for my arrival. Very pleased . Thank you
How May I Help You Realize Your Boating Dreams?
Click on the photos below to learn more about how I can help you
Areas:
Chesapeake Bay Region, East Coast,  Annapolis, St. Michaels, Kent Island, Baltimore, Oxford, Galesville, Edgewater, Deale, Herring Bay, Severn River, Magothy River, West River, Rhode River, Miles River, Chester River, South River, Choptank River, Tilghman Island, Rock Hall, and many more. 
Counties We Serve:
Anne Arundel, Baltimore, Kent, Queen Anne's, Talbot, Dorchester, Calvert, St. Mary's, Cecil, Hartford, and many more.